New York Knicks Looking To Trade For Kenneth Faried [Update]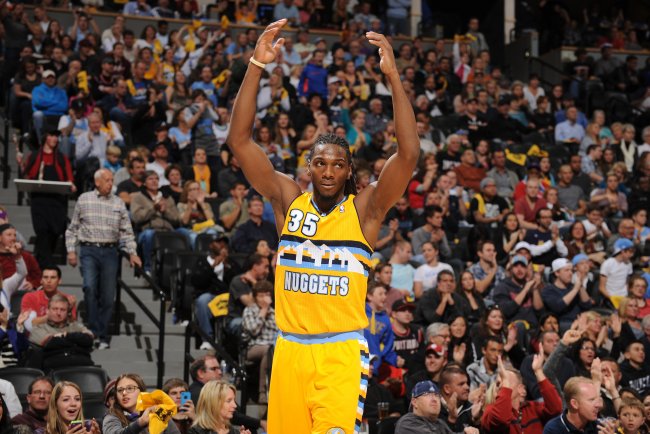 With the loss of Tyson Chandler for a few weeks due to injury, and its blowout loss on Sunday, the New York Knicks are looking for help in their frontcourt.
According to Frank Isola of the New York Daily News the Knicks are in talks with the Denver Nuggets in a rumored trade which would involve Knicks wingman Iman Shumpert for power forward Kenneth Faried.
Faried will give some stability to the frontcourt which already involves an inconsistent Amare Stoudemire, an aging Kenyon Martin, and newcomer Andrea Bargnani.
The New Jersey native, Faried has seen his minutes go down recently, and may be falling out of favor with the Nuggets. Meanwhile Shumpert hasn't quite been living up to his hype as a Knick. He has played great defense for the team but by drafting Tim Hardaway JR, the Knicks could use Shumpert as a chip to get the frontcourt defense they desperately need.
Faried is averaging 8.8 points, 8.5 rebounds, and 1 assist per game. Meanwhile Shumpert is averaging 9.5 points, 4.7 rebounds, and 1.5 assists per game to start the season.
Update: It looks like Kenneth Faried is not going anywhere as Adrian Wojnarowski of Yahoo! Sports reported that Denver told the Power Forward that he will not be traded by the team. The Knicks have reportedly gotten many trade offers for Shumpert however so it is possible he may get traded.
Denver has made it clear to Kenneth Faried's reps: There are no active talks involving him. Knicks offered Shumpert. Denver rejected idea.

— Adrian Wojnarowski (@WojYahooNBA) November 13, 2013